Pictured is my very good friend Naomi's custom 1973 750cc Triumph Tiger and my 1960 650cc BSA A10 Super Rocket.
Proud to collect both OLD & NEW British Motorcycles -
I am happy to host the: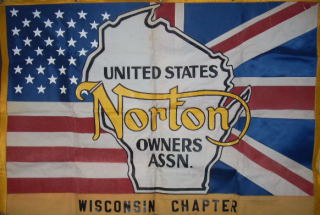 Wisconsin Norton Owners Association Home Page
CLICK HERE For LINKS to all my pages!
SEE YOU ON THE ROAD!

THIS SITE IS OFTEN UPDATED
Contact Chuck Stults at the BBC ~ his address is:
Norton AT BritishByChuck DOT com
We have it typed to avoid spamming - Contact us to Add Your Web Site to the Links Page
or to Send Questions or Comments!
This site is maintained by Naomi's Web Designs
02/24/2008 01:19:30 PM -0600